Dimsport Training Race 2000 Masterclass: 5 Day Advanced Training (Diesel & Gasoline)
Dimsport Race 2000 Masterclass: 5 Day Advanced Training (Diesel & Gasoline)
An intensive 5-day course on Dimsport's Race 2000 software. This software is perfect for all skills levels even if you're a complete beginner. The course starts with an introduction to ECU remapping and a complete tour of the Race software.  This provides the basis on which to build upon during the week-long course; the end goal to get you to producing quality remaps independently.
If you don't see the training dates you are looking for, please e-mail the team at info@viezu.com
Dimsport Training Race 2000 Masterclass: 5 Day Advanced Training (Diesel & Gasoline)
5 Day Advanced Dimsport Training Race 2000 tuning and training course. In this Dimsport tuning training course we will cover both Diesel and Gasoline / petrol engine tuning and remapping. As such the training focusses on the Dimsport tuning and map writing software " Race 200″ In addition, this 5 day training course is the full entry level tuning. This it is the full master training course across one fully packed 5 days of training. 
The 5 day training courses are the most popular we offer. As such the training starts with the basics and progresses to advance use of the tuning software. Therefore covering both fuel types. As well as custom tuning and modified vehicles, power, performance and fuel economy tuning tuning and more.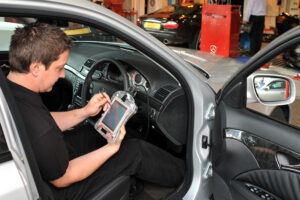 During the Dimsport Race 2000 Masterclass Course you will cover a range of topics, including:
Introduction ECU-Remapping
Diesel engines
Fuel Injection systems
Air intake system
Supercharging system
Antipollution and emission systems
ECU: The Engine Control Unit
Tuning Case Studies
Dimsport software uses
Drivers and map packs
Diesel Engine Tuning
Diesel Turbo tuning
Petrol/ Gasoline Engine Tuning
Petrol Turbo Tuning
Stage tuning and modifications
DTC and deactivating engine functions
Also covered, installation of the Race 200 tuning software and use of the Dimsport Genius tuning tool. Race 200 software, through to its use to find and alter ecu maps and tables. The options to display and change ecm software information. And of course, what to change to obtain the best results you are looking for. Moving limiters, boost control maps, fuel, torque limiters, speed limiters, DTC codes,  spark-advance, and much more. Scaling maps for vehicle upgrades and modifications will also be covered.  How to use, re-use and copy tuning files, or elements of tuning files, for fast accurate tuning results.
This course is offered at Viezu Technologies' research and development centre utilising a 3000bhp Mustang dyno and relevant test and measurement equipment. Courses are designed to be hands-on and practical allowing you to verify the knowledge you have acquired.