Alientech K-Tag Slave Fully Active – All Protocols
£1,395.00
Alientech K-Tag Slave Fully Active – All Protocols
The Alientech K-Tag Slave fully active, with all protocols. Sold as an open slave, ready to be linked to any master of your choosing.  Just simply give us your Alientech masters code and account number, and we will join this Alientech K-Tag Slave to it, ready to use. With all protocols live and ready.…. see more below …
Description
Alientech K-Tag Slave Fully Active – All Protocols
The Alientech K-Tag Slave fully active, with all protocols. Sold as an open slave, ready to pair to any master of your choosing.  Just simply give us your Alientech masters code and account number, and we will join this Alientech K-Tag Slave to it, ready to use. With all protocols live and ready.
Just like the Master version, the K-Tag salve is capable of tuning direct to the ecu. Through a universal probe set. And, tuning through fixed probes / frame. And now the super convenient Service mode tuning for remapping. The K-tag salve is also capable of cloning ecus. This is a very useful and powerful addition, meaning used ecus can be cloned and reused. And also retuning corrupt or ecus with damages programme files.
If you are not already using K-Tag, please take a look at our Alientech K-Tag Slave training videos. Here you will see the process off connecting to and readying vehicles ecus with teh tool and software. The training videos cover both traditional direct to ecu tuning, and service mode tuning too.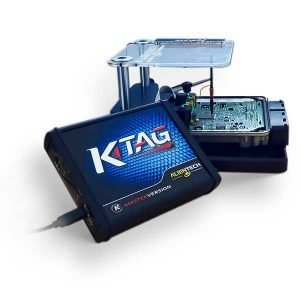 The vehicle coverage of the Alientech K-Tag tuning tool is simply huge.  Boasting the largest application list of any ecu remapping bench tuning tool.  The process, support and instructions are second to none too. And includes super-high quality picture and step by step connection guides.
definition fitting and connection instructions too. All Tuning tools purchased come with free set up, instillation and training support too. And, hence its no wonder the K-tag is naturally the number one choice for tuning professionals.
All Alientech tuning tools, software and equipment is available with worldwide mail order. Trade discount, and multi purchase discounts are also available, please ask for details. Worldwide shipping and training online, and in class is available.
Alientech K-Tag Training
Approved Alientech master file writing training courses are available from Remap 101. Training is available as online live sessions, webinars, pre-recorded downloadable training sessions. Live in house training courses of either 3 or 5 days are also available.
K-Tag Master tuning tools are not joined to or linked to a sellers account. Salve units can be paired to the master and managed by the purchaser directly. Both Master and salve tools are available for sale from the academy.
In addition if you don't already operate the Alientech ECM software. If you purchase a master tool from us, you are eligible for a 50% discount of the RRP of the Alientech ECM file editing software. Please ask for details
See the free  How to tune with Alientech K-Tag tuning tool course here