Remap Training Courses
Visit the course calendar to see the latest dates. Courses are run throughout the year at Viezu Technical Academy (VTA)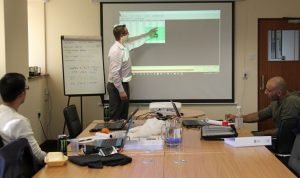 Kicking off with a Master 1-day Chip Tuning, Bench Tuning, TriCore Tuning and DSG Tuning training course on 3rd May, this course is a perfect add-on to the popular VTA 3-day courses. Giving delegates the knowledge to approach a wider range of vehicle types, many of which were previously considered as 'anti-tune', and select the correct method to tune the ECU.
The second course on offer, taking place on 4th May, is a Master 1-day Advanced Tuning Course. This course is also designed as a perfect addition to the VTA's 3-day introductory ECU tuning and remapping training courses, building on knowledge gained with advanced tuning techniques which enable learners to take into account add-on modifications to the vehicles.
The third course on offer is a Master 5-day Advanced Tuning Course covering both diesel and gasoline engines, and taking place from the 9th – 13th May. This is an intensive week of learning combining all the key elements to vehicle tuning.
The fourth course, taking place from the 18th – 20th May, is a Master 3-day Gasoline Tuning Course. Over three days delegates will learn the parameters required to effectively tune gasoline engines, starting with an introduction to ECU remapping and building to intermediate knowledge. These 3-day courses are an extremely popular introduction to ECU tuning and remapping, and are offered concentrating both on gasoline and diesel engines. A Master 3-day Diesel Tuning Course is taking place from the 25th – 27th May.
The final course on offer in May 2016 is taking place on 31st May and is another Master 1-day Chip Tuning, Bench Tuning, TriCore Tuning and DSG Tuning course, which is perfect timing for delegates who have undertaken one of the VTA's 3-day training courses earlier in May.
All of the VTA training courses are backed up with real hands-on experience tuning our test vehicles on our 3000bhp Mustang Dynamometer and relevant test and measuring equipment, allowing delegates to directly experience the impact of the knowledge gained on their training course.
All courses are offered on ECM Titanium, Map 3D, Dimsport Race and Swiftec Software. Viezu only supports training on genuine software. For more information on any of the Viezu Technical Academy training courses please call +44 (0)1789 774444 or email info@viezu.com.