ECU Remapping files and remap software
ECU Remapping files and remap software ready to use. Open every day of the week for live service. As a master tuner, you have a lot of choices when it comes to tuning files and remap providers. When you are looking for a new tuning file provider, there are many available to you. If you are looking for some additional options, we invite you to try VIEZU Tuning.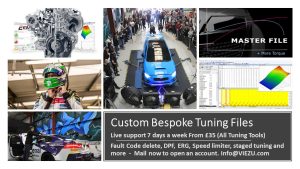 What are some of the best thing about the VIEZU ECU Remapping file service
VIEZU's remap and tuning files are available seven days a week, beginning at 7am
There are more than 20,000 tuning files that can be downloaded 24/7/365
Custom and bespoke tuning and remap files are available through real humans
Popping and banging remapping files
DTC deletion
While you wait, tuning and ECU remap stage one and stage two files
Using any tuning tool
ECU remapping software and files on a pay-per-use basis
Custom tuning files are usually completed in 20 minutes or less
Training and support.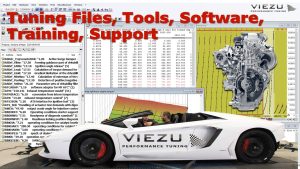 Tax Free International sales
Tuning tool, software and tuning files for international clients are UK tax free. All tuning tools and software including the Alientech Kess3 are available. With door to door worldwide service and mail order.
What tuning tool?
VIEZU has one of the largest ECU Remapping file service teams in Europe. We have 24 on our team. Customer satisfaction is everything to us. When you are looking for a new tuner and ECU remap file provider. Look no further. They deliver a fast, dependable, bespoke and friendly service.
Our sales support team can arrange trade prices, training, and support for a new tuning tool, be it master or slave. Check out our tuning tool shop here.  : https://viezu.com/shop/category/professional-tuning-tools-hardware-software/
And if you own a slave tuning tool and would like to explore looking for a new remap file provider. Please call or email the service team at VIEZU to see how we can get move you to the cost effective, fast and market leading VIEZU ECU Remapping service. Learn more here: https://viezu.com/services/tuning-files/   
Car remap and ECU remapping from www.VIEZU.com
If you would like to open a free VIEZU tuning file account as well as file portal,  email VIEZU now. We just need your name and address to get you live info@VIEZU.com