Car tuning tools software and Car tuning Training
Car tuning tools software and Car tuning Training from Remap101. As well as the huge range of car tuning courses, truck and tractor tuning training and ecu remapping training courses. Both online and in Class that Remap101 offer. Remap101 also offer most car tuning tools and software too.
Tuning tools for reading and writing OEM software from the ECU. And tuned modified software back on to a vehicles ECU once you have made the changes you wanted to. As well as the editing software to adjust and make the changed to the software itself.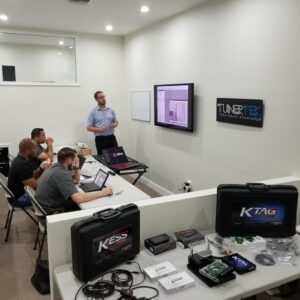 Most popular tuning tools are available, and all at trade prices. These include the Alientech Kess V2, the Alientech K-Tag for service mode and direct to the ECU tuning and programming. Autotuner tuning tool, CMD tuning tools, Magic Motorsport Flex, and Dimsport Genius too.
Set up and training comes with all tools. Your tool training can either be in house at the training school. Or where this is not convenient, training can be live online via skype or Zoom.
Tuning Tools
Tools can be seen in the Remap101 Shop here: https://www.remap101.co.uk/product-category/professional-tuning-tools/
In addition to vehicle tuning tools, cables, connectors and additional hardware. Remap101 can also supply and train on most mainstream tuning software's. Including EVC WinOls training. Alientech ECM Titanium Training. Swifttec, Map3d, Dimsport Race 2000 and Magic Motorsport. And if you are looking for the new Alientech Kess 3 tuning tool, offering OBD, Bench and Boot tuning you can find it here in the shop https://www.remap101.co.uk/product-category/professional-tuning-tools/alientech-kess3/
If you need any help choosing either your tuning tools, or your tuning software. Please get in touch with the support team at Remap101 and they will be happy to help. And even arrange a free demonstration if thus will assist you
International students and sales welcome, sales outside of the Uk are zero rated for VAT, and so no UK tax will be applied to your purchase. Worldwide door to door shipping available