Map 3D Training Course: 3 Day Tuning Course Diesel and Gasoline
This course is an intensive 3 day course of Flashtec's MAP 3D, this course is suitable for all skills levels and abilities even if you're a complete beginner and never have remapped before.
If you do not see the course dates and times you require or have any questions, just drop us a mail, and we will be happy to help.
Map 3D Training Course – 3 Day Tuning Course (Diesel and Gasoline)
In this Map 3D Training Course run over 3 days.  Covering both Diesel and Gasoline ECU remapping and tuning services.  You will be familiarised with the Map 3d tuning software, its functions, abilities and use. As well as the steps by step process required to produce and write custom tuning software files. The full functionality of the Map 3D tuning software and the CMD tuning tools are covered. With the sole aim that by the end of the course you will be writing your own custom tuning files and software.
During the Map 3D Training Course we cover a range of tuning areas:
Map 3d Drivers
Original files
Diesel Tuning
Petrol Tuning
Tuning for stage I and II
Decat, O2 delete, popping tuning, and modifications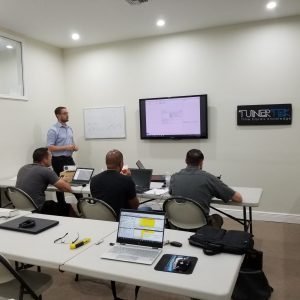 The VIEZU Training Academy courses cover ECU remapping and software changes, along with the reading and writing of the software from the vehicle. Tool training will usually be based on the CMD tuning tool and software in this course. Covering both OBD tuning and removal of the ECU and programming on the bench.
The course is intensive, full of learning opportunities and great for people of all levels. It will give a huge insight into OEM EUC remapping
The VTA  will show how to modify, when and where to modify data. And what differences the maps and changes make in relation to the running of the engine. So if you are looking for power, performance or fuel economy tuning you will understand how to make the map alternations to achieve your goals.
Day 1:
Software calibration and set-up
Reading and writing of and ECU file
Drivers, and driver requests – and how to use them
Original files and ID reads
Finding and using map tables
Day 2: Diesel
Engine sensors and maps in the calibration software.
Diesel tuning, understanding and changing software maps
Software comparison and use
Fuel, torque, throttle, maps etc.
Turbo Diesel maps and controls
Modification of map tables.
Functions of the map tables
Diesel performance tuning
Customised tuning
Day 3: Gasoline
Gasoline tuning, using the map tables.

Ignition, fuel, torque, throttle, boost, maps.
Modification of maps and data
Use of tables
Customised tuning.
Dyno tuning and testing
This course is offered at Viezu Technologies HQ utilising a Mustang 3000bhp dyno and relevant test and measurement equipment. Courses are hands-on and practical allowing the student to practice the impact of their knowledge acquired on this course.